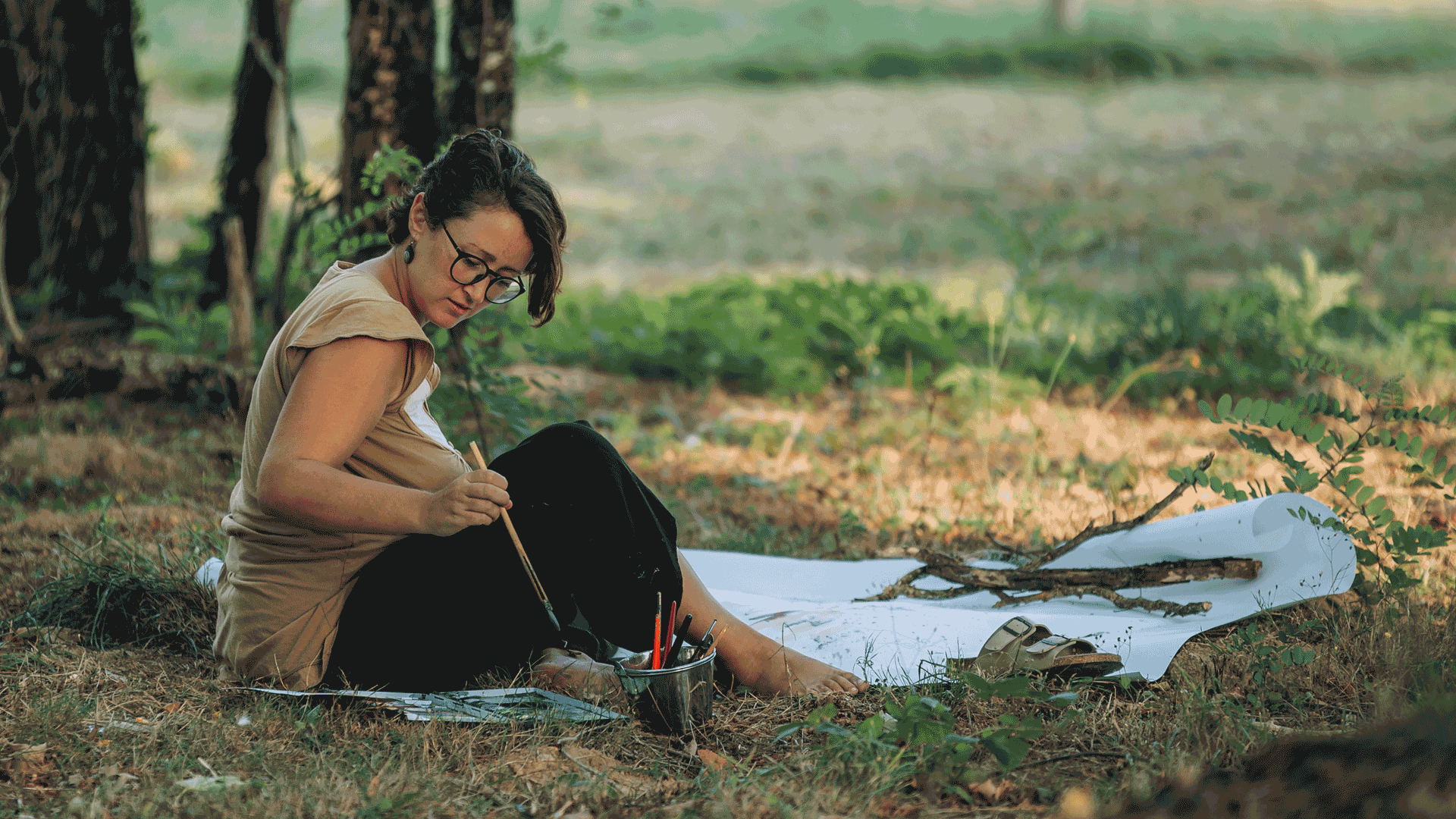 Photo Martina Orska © CIRECA
Until October 15th, Domaine de Boisbuchet is running a residency programme that welcomes artists, writers, architects, designers, filmmakers, musicians, and researchers, among many other disciplines, to develop, alone or with collaborators, their own large or small scale projects. Residents may take advantage from all the Domaine's facilities for work and accommodation, from its 150 hectares of forest, pasture, a river, a lake, and an unpolluted fauna and flora; from its architectural park, its vast library, archive and collection; and overall from its expertise and network after 30 years organizing workshops, events, exhibitions and many other cultural activities with institutions and people from all over the world.
Boisbuchet is offering up to 10 places at a time for a minimum period of one week for residents. Accommodation is provided in private rooms each with an en-suite bathroom. We are also offering all residents half-board meals, namely, breakfast and lunch, with access to kitchen facilities.
The residency program may be complemented by the usual series of activities held at Boisbuchet, such as exhibitions, guided tours, workshops, presentations, talks, discussions, conferences, and more.
"Boisbuchet was an incredibly powerful experience. Living in this wonderful environment with artists, students and local workers was simply unique. Besides being beautiful, Boisbuchet is an important and revolutionary place."
To activate the subtitles (French), press the "CC" icon
APPLICATION PROCESS
The application for Boisbuchet's Residency Program will be carried out online, by following the subsequent procedure:
Applicants should first complete the application form on our website, which can be found at the bottom of this page.
In addition, a CV and a letter of motivation (PDF – maximum one page each) should be sent to residencies@boisbuchet.org, specifying what the applicants hope to achieve during their stay.
If the applicant is accepted, the process will be followed by a videoconference interview with a member of our team. This will allow us to get to know more about the applicant and their work so that we can best prepare for their residency.
Our team will contact the applicant to proceed with the payment and finalize the application process.
WORKING FACILITIES – ACCOMMODATION
We have a large number of both large- and small-scale work and studio spaces for residents to work in, including a workshop which is fully equipped with general tools and machinery which will allow you to work with many different materials. There are additional conference and study rooms for residents to discuss, read, write, or plan – all furnished with a selection of pieces from the design collection of Boisbuchet.
Additionally, if residents wish to work and/or experiment with nature, they will have access to 150 hectares of open air space, where a wide variety of materials from bamboo and clay, to wood, water or stone are available to work with.
Accommodation is provided as part of the residency. Boisbuchet has an extensive architectural park of historical and contemporary buildings to house our residents and guests. Residents will have a private room with an en-suite bathroom with access to kitchen facilities. If residents wish to share a room with their partners and/or families, shared accommodation is also available.
COSTS
Boisbuchet is partially covering a large part of the cost of the residency. However, as a nonprofit organisation which auto-finances its own activities, a fee is charged to cover part of the cost of the program and to allow its continuation.
This fee includes accommodation in a private room with an en-suite bathroom, half-board meals, access to all our facilities listed above, including many work spaces, the use of a wide range of tools and materials, and access to our library, collection, and our wide professional network.
1 Week – 420.00 €
2 Weeks – 800.00 €
3 Weeks – 1180.00 €
4 Weeks – 1560.00 €
6 Weeks – 2320.00 €
8 Weeks – 3080.00 €