SUMMER EXHIBITION 2012
MARIA BLAISSE : MOVING MESHES
JULY 1ST – SEPTEMBER 1ST
Boisbuchet presents the designer's first solo exhibition in France.
In 2012, Maria Blaisse's inventive bamboo structures were filling the airy rooms in Boisbuchet's castle. Serving as costumes or sculptures, expanding, contracting, bouncing and shifting, these forms animate the body and form space. Strong yet delicate, their form is driven by Maria Blaisse's sensitive material research and her masterful understanding of form.
Living and working in Amsterdam, Blaisse's work can be seen in international galleries, theatres and museums. Maria Blaisse works at the forefront of research, education and the design of textiles and flexible materials. Engaged in both art and design, her career mixes performance, fashion and architecture and spans collaborations with a diverse range of outstanding personalities, including designer Issey Miyake, singer Paula Abdul, dancers Kenzo Kusuda and Makiko Ito, as well as sportsman Michael Schumacher.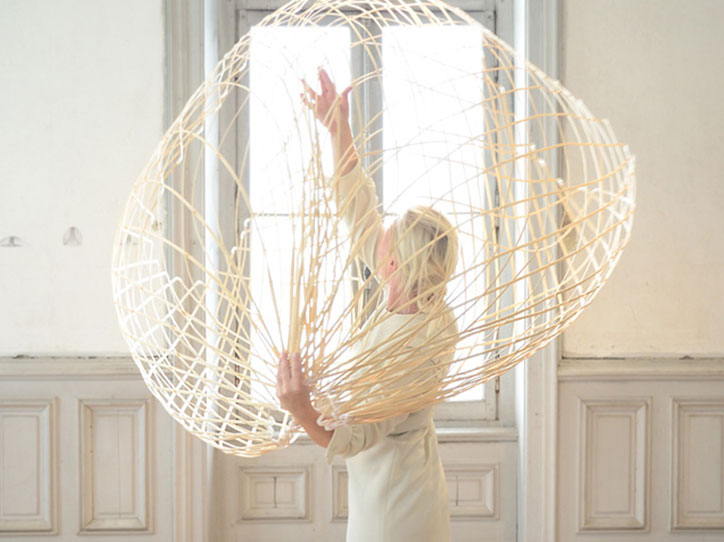 The exhibition included five delicate bamboo works and a video projection that lie at an intersection of design and movement. As a narrative, Moving Meshes lead the viewer through a sculptural experience exploring the body as a critical element in the animation of material and form. Fellowship students from Parsons The New School for Design in New York collaborated with Mikaël Baillairgé in the design and installation of this exhibition. The fellowship program was developed by Parsons The New School for Design in collaboration with the Centre International de Recherche et d'Éducation Culturelle et Agricole (CIRECA). The exhibition was supported by DRAC Poitou-Charente.