Julia Lohmann (GB) + Gero Grundmann (GB)
Animism – The Tales of Matter
August 20th – August 26th 2017
The Workshop
Natural materials are imbued with lives of their own, with their own life stories. They tell tales of the earth, the wind, the water, and the sun. Of swarming and gathering, of predator and prey, resilience and respite, mimicry and motion, becoming and vanishing. They connect nature and culture, science and art, thinking and doing, the past with present and future, and the human maker with a sense of the non-human being the material once was.
We tune into the tales of matter and explore the interrelated web of beings that make up the eco-system of Boisbuchet. Then we try to make the voices of the materials perceptible by creating things and interventions that enable them to tell their own tales – in their own material voice.
"Rise up, trees of the forest, of avenues, gardens, parks, fruit trees, rise from the timber you
have brought forth, bring back to us your memory, tell us of your experiences, your
encounters and of the seasons. Lead us back into the forest, into the darkness, into the
shade, to the scent of the undergrowth, to the miraculous cathedral of trees. The idea, to
intrude in the intimate history of wood with a scalpel, one of sunny, rainy and festive days, of
meetings with insects, animals and other life forms, of accidents, abuses, carvings, incisions,
a history also written by the tender touch of other plants, can only be unfolded by thought
nestling up against matter."
Giuseppe Penone (in Materialästhetik, 2005 translated by Gero Grundmann)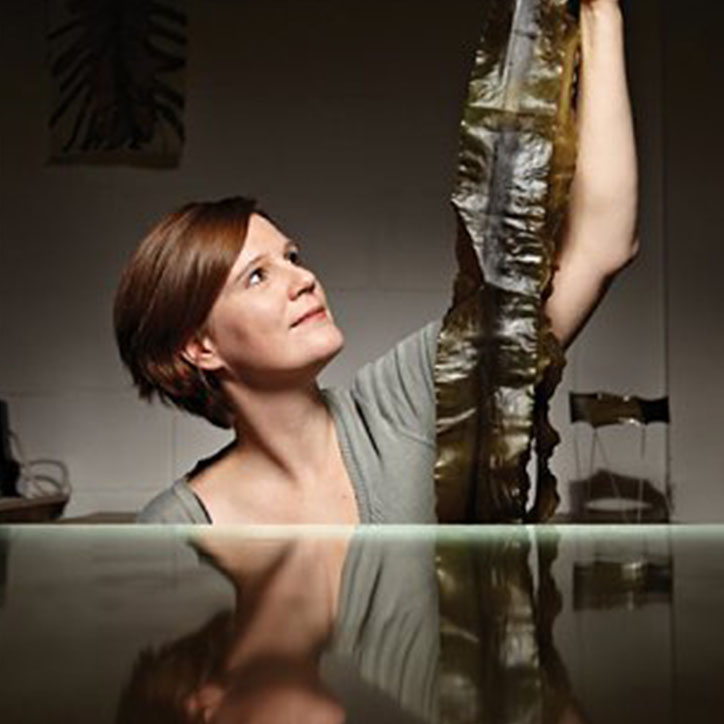 Maggots. Sheep stomachs. Seaweed. German-born designer and researcher Julia Lohmann investigates and critiques the ethical and material value systems underpinning our relationship with flora and fauna. She is professor for design at the University of Fine Arts, Hamburg (HFBK), and directs her eponymous London-based design practice. Julia studied at the Royal College of Art, where she has also taught and is currently engaged in an AHRC-funded collaborative PhD scholarship between the RCA and the Victoria & Albert Museum. As designer in residence at the V&A in 2013, she established the Department of Seaweed, an interdisciplinary community of practice exploring the marine plant's potential as a design material. Julia Lohmann's work is part of major public and private collections worldwide and has received awards, bursaries and support from the Esmée Fairbairn Foundation, the British Council, Jerwood Contemporary Makers, D&AD, Stanley Picker Gallery, the Arts Foundation and the Wellcome Trust.
www.julialohmann.co.uk