Glithero (GB) + mudac (CH) + + CMoG (US)
Ol-Factory
July 19th – July 29th 2017
The Workshop
Sarah and Tim, together with two glassblowers of the prestigious Corning Museum of Glass from New York (CMoG), will guide you on a journey that, through glass and ceramics, leads to perfume. Using Boisbuchet's wood-fired kiln, you'll be creating objects that shall enable people to experience scents in unprecedented ways.
The aim of the workshop is to develop prototypes in glass and ceramics, which ultimately shall be used in the scenography of the perfume exhibition that Lausanne's museum of contemporary design and applied arts (mudac) plans for the summer of 2018. In that exhibition, the vessels and other objects that you developed shall showcase approximately 20 different scents. Your challenge is thus to please the visitors' noses and eyes in shape and touch, contain scent and yet allow that to develop, and to provide secure display in an exhibition's installation.
Thanks to our cooperation with mudac and CMoG, we are able to offer four (4) free workshop places to the winners of a competition, which will be launched on Boisbuchet's social media next week - so make sure to follow our newsletter, Facebook and Instagram from February 15th until February 28th.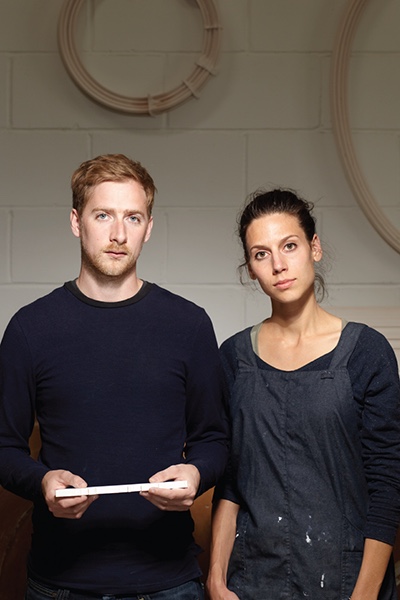 Glithero was founded by British designer Tim Simpson and Dutch designer Sarah van Gameren, who met and studied at the Royal College of Art. From their studio in London they create product, furniture, and time-based installations that give birth to unique and wonderful products.
The work is presented in a broad spectrum of media, but follows a consistent conceptual path; to capture and present the beauty in the moment things are made.
From machines that miraculously create wax chandeliers from strung wick, a pouring slide that becomes a ten meter long poly-concrete table, to ceramics that turn vivid blue with UV light, the key ingredients of their work are time and transformation. With their own concoction of creation-performance they aim to bridge creative disciplines and make works that can be understood by all.
www.glithero.com