Domaine de Boisbuchet Announces
The Winners of the Boisbuchet Residency Award 2018
June 12, 2018
Over the past week-end, the jury of Boisbuchet's Matters of Fact competition – Constance Rubini, director of the Musée des Arts décoratifs et du Design in Bordeaux, Isabelle de Ponfilly, directrice of Vitra France, Jonathan Knowles, professor of architecture at the Rhode Island School of Design, and Alexander von Vegesack, founder of the Domaine de Boisbuchet – made up its mind and selected Abbie Adams and Kamila Kantek as this competition's winners. Congratulations!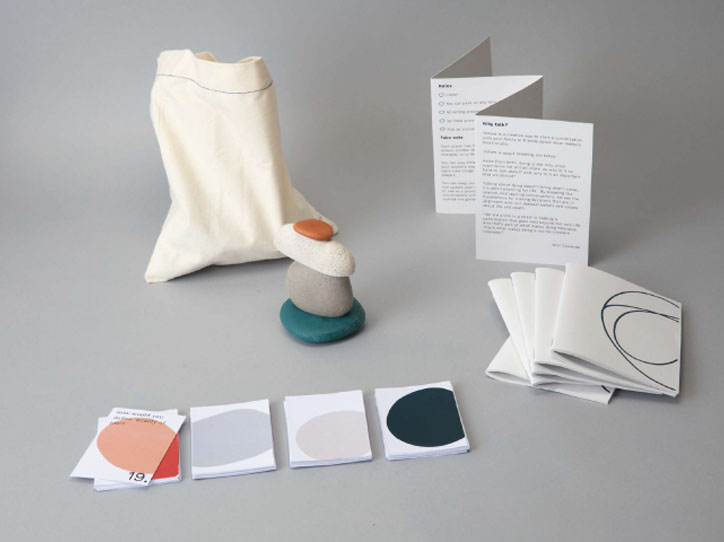 "TOTem" by Abbie Adams
TOTem is a creative way to start a conversation about living and dying, it acts as a facilitator that guides a group of people through a conversation about what matters most. By breaking the silence, and starting conversations, we set the foundations for making decisions that are in alignment with our deepest beliefs and values about life and death. The gift of giving your loved one the clarity on your end of life wishes, an important conversation, wrapped in a game, given as a gift.
TOTem is built around a set of 40 questions and conversation cues, it acts a facilitator that guides a group of people through a conversation about living and dying
"the Lick Thing" by Kamila Kantek
The result of the project are objects co-created by people and animals. The material is a composite of minerals supplementing the nutrient deficiency in an initial form of a machine-produced lick. The final objects are formed as a result of material processing by animals and our decisions as curators of this process. By taking man- and machine-made objects created in a fully controlled way and placing them in animals' surroundings, we subject them to the process of unpredictable change, which results in creating a new form. A perfect cube is transformed into an object that belongs to a world of nature.