BCXSY (NL)
A Portable Oasis
August 4th – August 10th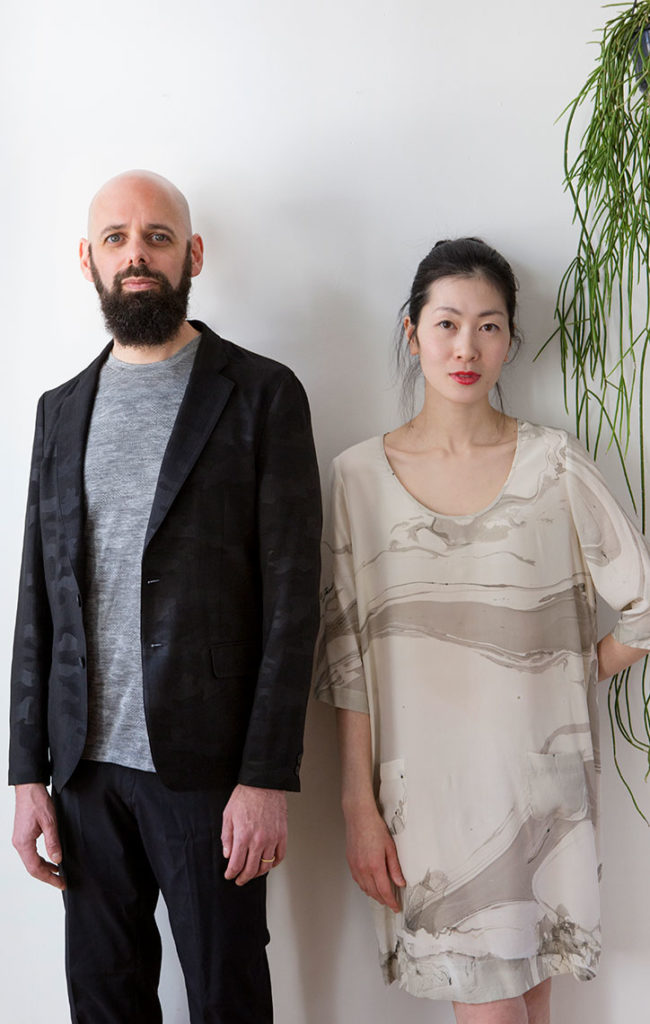 BCXSY is an Amsterdam-based interdisciplinary cooperative between designers Boaz Cohen (Israel, 1978) and Sayaka Yamamoto (Japan, 1984). Established in early 2007, BCXSY continues to carry out a wide range of projects, both in The Netherlands and abroad. Offering a balanced combination of two unique talents, the studio delivers one distinct narrative that is characterized by an emphasis on personal experience, human interaction and emotional awareness. The artful intertwining of the specific and boutique with the universal and commercial is the hallmark of the BCXSY design experience.
Over the past years, BCXSY has gained international notoriety and recognition for their dedication to socially responsive projects. Their award-winning work has been featured at some of the world's most prestigious design events and continues to capture the attention of international galleries and museums, including the acquisition of the Join screens by the Victoria & Albert Museum in London, the In Between glassware by the Shanghai Glass Museum, and the commissioned work, New Perspectives, by the TextielMuseum in Tilburg, The Netherlands.
With an approach that is playfully deliberate, BCXSY never fails to surprise and inspire. By collaborating with a variety of craft workshops and commercial initiatives, BCXSY creates products that are infused with context and beauty.
The studio has also teamed up with world acclaimed partners such as H. Stern, Kvadrat, J. & L. Lobmeyr, Philips Lighting, Spazio Rossana Orlandi, Wallpaper*, Domaine de Boisbuchet, Calico Wallpaper and many more.

www.dezeen.com/tag/BCXSY
A Portable Oasis
August 4th – August 10th
Workshop Categories

The Workshop
One of our favorite aspects of Bauhaus is the strong link between function, environment, and the user experience. Through such a holistic approach, Bauhaus has been aiming to create harmony and bring peacefulness and balance into everyday life.
We are particularly drawn to the work of Oskar Schlemmer, who, in the words of Walter Gropius "experienced space not only through mere vision but with the whole body". Many of the wearable and mobile structures created by Schlemmer have doubled as portable, three dimensional illustrations of some of the core aspects of Bauhaus.
In our present-day's world, harmony, peacefulness and balance appear to be scarce and sometimes more of a luxury rather than an integral aspect of one's daily environment. In search of those experiences, we would often need to travel to faraway places, such as Domaine de Boisbuchet, which function as an oasis in the midst of today's hasty and stressful lifestyle.
Our workshop invites participants to define their own oasis and, by using elements which they can find at Boisbuchet's surroundings, create portable structures that reflect one's personal vision. Through experimentation and interaction we'll look at how those creations can affect both the individual and his/her surrounding until we reach an outcome that helps to experience the Oasis and take along a piece of Boisbuchet anywhere we go.
Accommodation & food are included

We can accommodate for special catering

All participants sleep in dormitories
Our staff are available to help you conceptualize & produce your designs

Tools & materials are provided by Boisbuchet

All workshops are taught in English

The number of participants is limited to 22
Weekly campfire, exhibition & guided tour of the Domaine

Conferences from designers throughout the week

The famous Wednesday Porky's party